First formal meeting with British Foreign Secretary and Minister Flanagan concludes a positive year
16 December 2014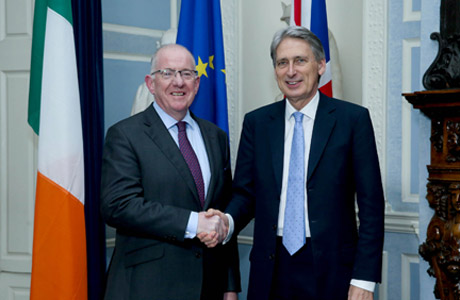 First formal meeting with British Foreign Secretary and Minister Flanagan concludes a positive year for Irish-British relations
First formal meeting with British Foreign Secretary and Minister Flanagan
concludes a positive year for Irish-British relations
Minister Flanagan to discuss bilateral co-operation, Northern Ireland, international issues and UK-EU relations with Philip Hammond MP, British Foreign Secretary
Philip Hammond MP, British Foreign Secretary, is visiting Dublin later today for the first formal bilateral between the two Foreign Ministers. Mr Hammond's programme will include a working dinner at Iveagh House hosted by the Minister for Foreign Affairs and Trade, Charlie Flanagan TD. Prior to this meeting, the Foreign Secretary will attend and participate at a lecture to be given by former President, Mary McAleese, on the Christmas Truce of 1914.
Minister Flanagan made the following comments ahead of the Foreign Secretary's visit:
"Our agenda tonight will cover bilateral co-operation, Northern Ireland, international issues and UK-EU relations.
Britain is also a key partner in Europe and we will take some time tonight to discuss the UK's relationship with the EU.
Foreign Secretary Hammond and I will also discuss areas of bilateral cooperation, including between the Department of Foreign Affairs and Trade (DFAT) and the Foreign and Commonwealth Office (FCO). One specific area of excellent Irish-British co-operation is on Ebola, where there is close cooperation on the ground in Freetown between Irish and British personnel.
My British counterpart's visit comes towards the end of an excellent year for Irish-British relations, during which the partnership between these neighbouring islands was cemented further with the historic State Visit by President Higgins in April. Ireland and Britain are also working together to facilitate a successful conclusion to the Northern Ireland talks, which I will be joining again when they resume in Belfast tomorrow.
In relation to international development, we will also discuss the post-2015 development agenda. Ireland is one of the co-facilitators for the negotiations to agree the UN Sustainable Development Goals.
We will also consider the situations in Iraq and Syria, as well as the Middle East Peace Process."
The Minister added:
"I look forward to tonight's meeting and to further bilateral exchanges with Foreign Secretary Hammond.
I am particularly pleased he can join us for former President McAleese's Iveagh House lecture on the 2014 Christmas truce. His presence reflects our common wish to acknowledge the memory of the many who died in the First World War.
Ireland wants to continue to work with the UK – bilaterally and at the EU and UN - to deal with common global challenges, and also to make the most of the shared opportunities ahead."
ENDS