Tánaiste announces Passport Service preparations for the summer
25 April 2014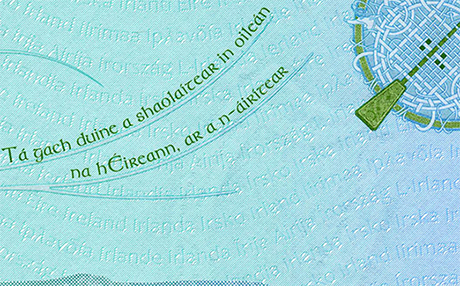 The Tánaiste Eamon Gilmore, TD, has welcomed the Passport Service's preparations for ensuring customer service ahead of the busy summer season.
The Tánaiste and Minister for Foreign Affairs and Trade, Eamon Gilmore, TD, has welcomed the Passport Service's preparations for ensuring customer service ahead of the busy summer season.
These preparations include a new rapid renewal service for last-minute passport issues, extension of the appointments system for urgent issues at the Cork Passport Office, the hiring of temporary summer staff to deal with increased demands, and a Twitter account which will give the latest passport news.
The Tánaiste advised Irish citizens to take advantage of these innovations when planning for the summer, saying:
"I encourage Irish citizens to check their passport expiry dates ahead of any holiday planning. The Passport Service offer a high level of customer care, but you can save time by being aware of the Passport Express system, and the appointments system at the offices in Dublin and Cork.
"There is also a wealth of information on our website at www.dfa.ie, which allows you to track your application, set up a renewal reminder, and a guide on how to apply for a passport."
Renewal options:
Emergency:
In the case of genuine emergencies such as a death abroad, the Passport Service offers an emergency service. Please call 01-6711633
One day:
A pilot Rapid Renewal programme based in the Dublin passport office on Molesworth Street will allow one-day passport renewals – by appointment only – for citizens who have a last-minute passport issue. A total of twenty appointments will be available every day until October. Appointments can be made from 2.30pm the previous day at www.dfa.ie
3-10 days:
A passport appointment system for quick turnaround is available at the Passport Offices in Dublin and Cork. This allows customers to book, via a simple web based system, guaranteed time slots before travelling into the Passport Office. The priority in the system is given to those with urgent travel needs and all others are encouraged to use the passport express service. This is a customer-orientated service removing the necessity for the public to queue in the passport office as they have an allocated time in the office for their passport application submissions. Book at www.dfa.ie
10 days+:
The Passport Express system is the fastest, cheapest and easiest way to apply for your passport. Apply through your local post office, in Ireland and Northern Ireland, and the Passport Service aims to have passports back in 10 working days from the receipt of fully completed applications. For first time applicants or those who are replacing lost or stolen books, the processing time can take up to 15 working days. If you are applying from Great Britain, the process will take around three weeks.
Locations:
Dublin:
The Passport Office on Molesworth Street is the only place where the new Rapid Renewal service can be arranged. Given the demand in the summer you must book an appointment in advance. This means you won't have to queue, and you can be sure of your application being dealt with promptly.
Cork:
The passport office in Cork will launch an appointment service from 28 April 2014. The new service will allow customers who need to travel within 10 days to to book a guaranteed time slots before travelling into the Cork Passport Office. Book at www.dfa.ie
Information:
Website:
A thorough guide to the passport system, a reminder service, booking appointments, and frequently asked questions are available on our website at www.dfa.ie
Twitter:
The Passport Office has launched a Twitter account at @PassportIRL
And finally...:
The Passport Service has made a list of the most popular names on first passports available at our website. The most popular girl's name in 2013 is Emily, and boy's name is Jack. View the complete list.
ENDS
Press Office
25 April 2014
Notes to Editors:
The new passport design was launched on 30 September 2013, and over 275,000 of the new passport booklets have been issued. More details can be found at www.dfa.ie
The Passport Service issued a total of 631,186 passports in 2013.
A guide to How to Apply for a Passport, which takes Irish citizens through each step of their passport application and answers the most frequently asked questions, is available at www.dfa.ie
You can also access a Passport reminder service and a Passport Tracking service to allow customers to track the status of their application.