Expert team from Ireland to travel to the Philippines to assess support to victims of Typhoon Haiyan
25 November 2013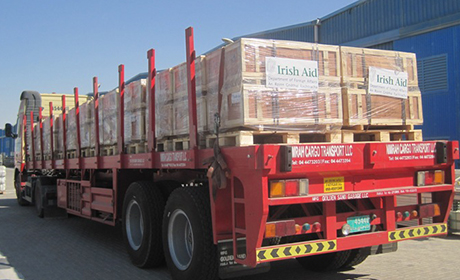 Ireland was quick to respond to the immense suffering caused by Typhoon Haiyan, providing immediate, life-saving funding and supplies worth more than €3.5 million
A team of Government experts will travel to the Philippines this week. The Tánaiste and Minister for Foreign Affairs and Trade, Eamon Gilmore, T.D., and Minister for Trade and Development, Joe Costello, T.D., have asked the team to assess how Ireland can best assist the country to recover from the devastating effects of Typhoon Haiyan over the coming months.
The Tánaiste said:
"Ireland was quick to respond to the immense suffering caused by Typhoon Haiyan, providing immediate, life-saving funding and supplies worth more than €3.5 million. However, we recognise that, although the world's cameras are moving on, millions of Filipino citizens remain homeless, their livelihoods destroyed and their families at risk. Ireland is committed to helping them rebuild their lives over the coming months.
"Once we have addressed citizens' immediate needs for shelter, food, clean water and healthcare, the international community must work closely with the Filipino authorities to consider ongoing support for recovery efforts. We have charged the team with assessing how Ireland can be most effective in responding to the longer-term needs of communities in the Philippines."
Drawn from the Department of Foreign Affairs and Trade and the Irish Defence Forces, the team will travel to the Philippines on Wednesday. They will meet with the Filipino Government, UN agencies and NGOs in Manila, before visiting Irish-funded relief programmes in the areas worst affected by the Typhoon.
On completion of the mission, the team will outline their recommendations for how Ireland can continue to support the Filipino people.
Minister Joe Costello said:
"Lessons learned from previous natural disasters, such as the 2004 Tsunami and 2010 Haiti earthquake, highlight the need for the international community to continue to support those affected by disaster well beyond the initial relief effort.
"In helping families and communities to re-build their lives, we must make sure our support allows them to re-build in a more resilient way, helping them to withstand the impacts of any future natural disasters."