Níl an leagan Gaeilge ar fáil go fóill, más maith leat an leagan Béarla a léamh féach thíos.
Funding announced to mark World Environment Day
News
05 June 2015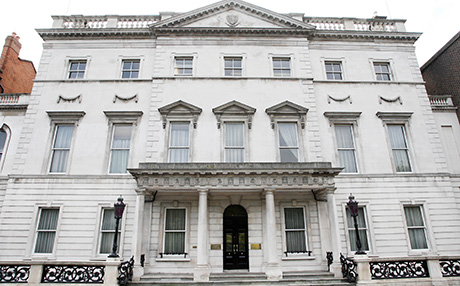 Ireland provides €2 million to support poorest countries fight climate change
Ireland has pledged almost €2 million to help the world's poorest countries tackle the growing impact of climate change, Minister for Foreign Affairs and Trade, Charlie Flanagan, TD, and Minister of State for Development, Trade Promotion and North South Co-operation, Seán Sherlock, TD, have announced.
Speaking today, Minister Flanagan stated:
"I am pleased to announce funding of €2 million on World Environment Day which will help the world's poorest countries tackle the growing impact of climate change.
"The funding will strengthen the ability of poor communities to adapt to climate change and tackle environmental degradation, including by supporting them to engage in crucial international negotiations which culminate in Paris in December.
"In addition to training and support for vulnerable communities, funding will be provided to the Mary Robinson Foundation – Climate Justice (MRFCJ) to promote the participation of women in these global negotiations.
"2015 is a pivotal year in human history as the international community works to achieve a global political consensus on sustainable development and climate change.
"Ireland is playing a leading role by co-facilitating the negotiations at the UN for a new set of Sustainable Development Goals to follow on from the Millennium Development Goals, for the period 2015 to 2030. These negotiations will be finalised in New York in September.
"As the Taoiseach pledged last year at the Climate Summit, Ireland will play its role as part of the EU contribution to the global effort to address climate change. This includes the EU commitment to reduce emissions by at least 40% by 2030. Ireland is committed to reaching a fair and ambitious agreement in Paris in December.
"The Government is also pleased to support Ireland's former President, Ms. Mary Robinson in her role as Special Envoy for Climate Change."
Minister Sherlock said:
"The effects of climate change have already severely affected the most vulnerable people in the world, from smallholder farmers in Africa to those in the small island states of the Pacific.
"Here in Ireland, we are also seeing the effects of climate change.
"2015 could go down in history as the year that delivered an equitable, ambitious and legally binding climate agreement that galvanised the action required to create a safer world for future generations.
"Through our development programme, Irish Aid, we are committed together with our partners to support communities to adapt to the negative effects and consequences of climate change."
ENDS
Press Office
3 June 2015
Notes to Editors:
• Irish Aid is the Government's overseas development programme. It is managed by the Development Cooperation Division of the Department of Foreign Affairs and Trade. See the www.irishaid.ie for further information.
• World Environment Day (WED) is the United Nations' principal vehicle for encouraging worldwide awareness and action for the environment. - See more on the UNEP website
• A new agenda for international development which will have a defining impact on a broad range of economic, social and environmental challenges is in the process of being negotiated. This agenda will be adopted at a Summit of world leaders in New York in September 2015. It will succeed the Millennium Development Goals, and seeks to galvanise efforts globally to eradicate extreme poverty by 2030 and promote sustainable development.
• Ireland's policy for International Development "One World, One Future" and Ireland's "Foreign Policy for a Changing World: The Global Island" effectively responds to the impact of climate change for the poorest people in developing countries, in particular in Ireland's Key Partner Countries in Sub-Saharan Africa.
• Irish Aid is also supporting the establishment of a Leadership Forum on Climate Smart Agriculture in partnership with the Royal Dublin Society (RDS) and the International Institute on European Affairs (IIEA).
• The International Institute of Environment and Development was founded in 1973 and is one of the world's leading think tanks on international development and environment policy research. Irish Aid's contribution to IIED's work will focus on technical support for the Least Developed Countries Group to strengthen their negotiating capacity on Climate Change negotiations.
• Founded in 1982, the World Resources Institute is one of the world's leading global research organizations working closely with leaders to turn big ideas into action and to sustain natural resources. Irish Aid's contribution to the World Resources Institute will focus on empowering communities to track international climate finance to the national, regional and local level.
• Established in 2010, the Mary Robinson Foundation – Climate Justice (MRF-CJ) is a centre for thought leadership, education and advocacy on the struggle to secure global justice for those people vulnerable to the impacts of climate change. With support from Irish Aid, MRF-CJ proposes to progress its work on gender equality with a particular focus on 'Promoting gender balance and improving the participation of women in UNFCCC negotiations'.
• The Department of Foreign Affairs and Trade (DFAT), through the Irish Aid programme, has provided the bulk of Ireland's Climate Financing to developing countries, approximately €33 million per year.