Níl an leagan Gaeilge ar fáil go fóill, más maith leat an leagan Béarla a léamh féach thíos.
Department of Foreign Affairs and Trade committed to delivering jobs for Ireland
News
29 January 2015
Minister Flanagan reiterates support for job creation and economic growth
Minister for Foreign Affairs and Trade, Charlie Flanagan today highlighted the role of the Department of Foreign Affairs and Trade in creating jobs as the Government launched the Action Plan for Jobs 2015.
Minister Flanagan said:
"My Department has a crucial role to play in creating jobs in Ireland. Through our Embassy network, we have worked hard to restore Ireland's economic reputation. Working closely with State agencies, we continue to focus on attracting multinational companies to Ireland, facilitating Irish companies to increase their business overseas, and attracting greater numbers of visitors to our shores."
The Export Trade Council, which is chaired by the Minister for Foreign Affairs and Trade, oversees the implementation of the Government Trade, Tourism and Investment Strategy and coordinates the State's efforts to promote trade, tourism, investment and education.
Minister Flanagan added:
"In 27 priority markets our Ambassadors are chairing Local Market Teams which bring together diplomats and representatives of State agencies to coordinate our work to create opportunities for Irish companies to break into emerging markets and to attract global companies to invest in Ireland."
On the recent opening of five new Embassies and three new Consulates General the Minister said:
"Our new Embassies and Consulates General in emerging markets across South East Asia, Europe, Africa and the Americas show our commitment to supporting Irish companies to grow their business around the world. The Embassies and Consulates General are providing a platform for the promotion of Irish exports, investment, tourism and education."
The Department will also play an important role in Irish Design 2015 (ID2015), which emerged as an idea from the Third Global Irish Economic Forum, organised by the Department of Foreign Affairs and Trade in 2013.
ID2015 will promote the value of Irish design; showcase Ireland's creativity and innovation; and link the business and design communities. The initiative aims to generate an additional €10 million in exports and create 1,800 jobs over three years through sales of design-led products and services. It will see over 300 design exhibitions, conferences and other events take place on the island of Ireland and internationally.
Minister Flanagan also commented on the role of the Department of Foreign Affairs and Trade in engaging the diaspora so as to harness their talent here in Ireland:
"Our diaspora represents an often untapped pool of talent, creativity and skills. Our new Diaspora Strategy will facilitate engagement with our diaspora so that they are fully aware of the opportunities that now await them in Ireland."
Minister Flanagan said:
"I recently launched our Foreign Policy Review which sets out our renewed focus on trade, job creation and economic recovery. The Review clearly demonstrates the work we are doing in this area and the ambitious plans we have set for ourselves."
ENDS
Press Office
29 January 2015
Notes for Editors:
About Action Plan for Jobs
The Action Plan for Jobs is the Government's plan to improve the conditions for creating new jobs. It is a whole-of-Government initiative under which all 16 Government Departments and 46 Agencies work together to support job creation and protection, and is a sister document to Pathways to Work.
The main strategic ambitions of the Action Plan for Jobs are:
to support 100,000 additional jobs by 2016
to achieve a top 5 competitiveness ranking
to build world class clusters in key sectors of opportunity
to build an indigenous engine of growth
to develop Ireland as the best small country in which to do business
Since the launch of the Action Plan for Jobs process in 2012, almost one thousand actions have been delivered. To find out more about Action Plan for Jobs and each year's plan, see: http://www.merrionstreet.ie/en/allaboutjobs/Government-Programmes/Action_Plan_for_Jobs/
Action Plan for Jobs 2015
Action Plan for Jobs 2015 is the next step in the multi-annual process aimed at delivering full employment by 2018.
The Plan is the fourth annual plan in a multi-year process which started in early 2012, and sets out in detail the more than 300 actions to be taken by 16 Government Departments and dozens of State agencies during 2015 to support job-creation, with deadlines and lead responsibility assigned. Building on the success of previous plans, the 2015 plan includes new Disruptive Reforms.
Action Plan for Jobs 2015 is available to download here: http://www.djei.ie/enterprise/apj.htm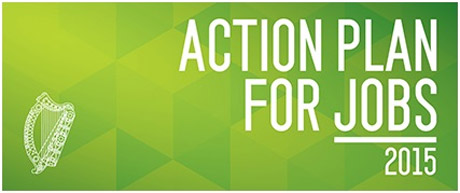 OECD review of Action Plan for Jobs process
Among the conclusions of the OECD review of the APJ in May 2014 were:
"…Ireland's Action Plan for Jobs (APJ) marks an important innovation in Irish governance…"
"Ireland is well on track to achieve the interim APJ target of 100,000 new jobs by 2016, while the longer-term aim of having 2.1 million employed people by 2020 also looks firmly within grasp."
"The APJ's most striking innovation in the Irish public policy context is a coordination mechanism that ensures high-level political buy-in and oversight, whole-of-government engagement and the establishment of quarterly targets underpinned by a robust monitoring system. These are important steps towards addressing long-standing gaps that undermine successful policy implementation."
"The APJ's focus on private sector-led, export-oriented job creation by getting framework conditions right and continually upgrading the business environment is a sound approach…"