Níl an leagan Gaeilge ar fáil go fóill, más maith leat an leagan Béarla a léamh féach thíos.
Tánaiste's meeting with US Secretary of State John Kerry
18 March 2013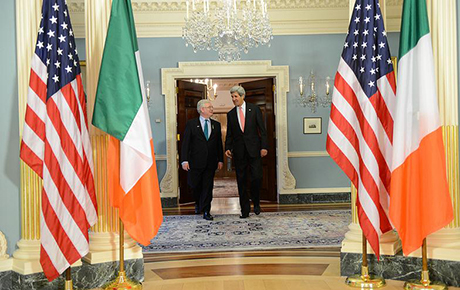 Tánaiste's meeting with US Secretary of State John Kerry
Tánaiste and Minister for Foreign Affairs and Trade Eamon Gilmore T.D., concluded a bilateral meeting with US Secretary of State John Kerry this afternoon in Washington D.C.. The two discussed plans for an EU-US Trade Agreement, the situation in Northern Ireland, the prospects for comprehensive immigration reform, and the ongoing crisis in Syria. Speaking after their meeting, the Tánaiste said:
"I had a very good meeting with Secretary of State Kerry. This was my third meeting with him since his appointment and we have established a very good working relationship.
We discussed trade, including between the US and Ireland, and the prospect of an EU-US trade agreement, which is something we want to progress during our Presidency of the EU as it is of mutual benefit. It is also something that the US are keen to see progressed as Secretary Kerry outlined to me and was evidenced in President Obama's State of the Union address.
Secretary Kerry reiterated his personal commitment and interest in working with us on Northern Ireland. He wants to keep in touch with us and he met earlier today with Secretary of State for Northern Ireland, Theresa Villiers. Both, Secretary Villiers and I will continue our work, as the two governments work together with the Northern Ireland administration in making progress, particularly in the economic area.
We had a good discussion on the issue of immigration, which is one of the issues being raised in all our meetings in the United States this week. The position of the 50,000 undocumented Irish people, living here in the US, and whose situation we hope will be regularised if there is comprehensive immigration legislation introduced, is something we are working with the Administration and the Senators and Congressmen on the Hill on.
The Secretary is going to the Middle East this evening, President Obama will be travelling to the region on Wednesday and we will have a meeting of EU Foreign Ministers, in Dublin ,on Friday and Saturday. Secretary Kerry and I agreed to keep in personal touch about their visits and discussions in the Middle East and we will coordinate their work with the work that I will be doing with the EU Foreign Affairs Ministers this weekend."
Tomorrow, the Tánaiste will join the Taoiseach at the White House where they will hold a bilateral meeting with President Barack Obama. Meetings will also take place with Vice President Biden and with other key members of the US Senate and Congress around the issue of comprehensive immigration reform and undocumented Irish people in the US.